Design and installation
Engineering Products and Services
When CCT bought " Furse Theatre Products " in 1988 we acquired the skills and knowledge of one of the oldest and most respected companies in theatre engineering at that time and we have continued to build upon this foundation.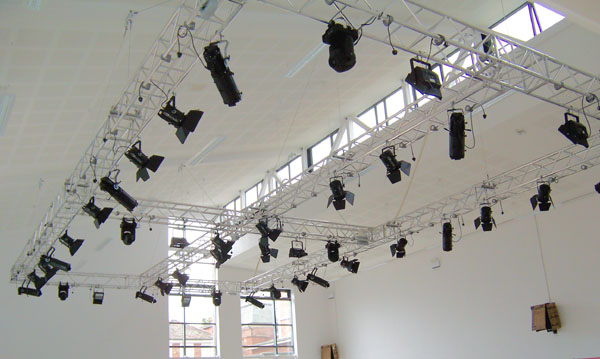 CCT can offer you a complete electrical and mechanical installation package, whether you require a dimmer rack or a full engineering scheme. Our project engineers will work with you to achieve your goal, providing you with a site survey, planning and costing service and finding the best possible equipment for each part of your project.
Once the planning has been completed and the equipment chosen, our engineers can install the equipment for you thereby ensuring continuity and a guarantee of service and quality from beginning to end.
The engineering on a traditional stage can be complex enough, what is there to fix to, do you need some form of extra main support system fitting. What type of curtain tracks and curtain/scenery support structure do you need, do you need raising and l lowering and will it all mask and then there are studio, open plan and theatre in the round all of which have different needs and require different engineering solutions.
Raising and lowering systems, both winched and counter weighted, need very specialised skills, safe working loads and the safe routing of ropes to minimise stress being just two.
You would be surprised just how many times we are called in to correct problems on systems, installed by others, which would not have happened if the project had been correctly planned in the first place.
In the professional theatre, fire curtains, pit lifts and sound doors can all give problems. Hydraulic arrestors and air pistons can fail, safety edges stop working and motor and gear units grind to a halt. CCT have spent many years learning how to minimise this type of disaster, finding engineering solutions to your problems and quickly solving them is our business.
We also have access to a vast range of brackets, clamps and fixings so if you have an engineering problem give CCT a call and your problems are over, we are the specialist's.
So, if your department is considering adding to its existing facilities, why not complete the contact form or just email office@cctlighting.co.uk or telephone us on +44 (0)115 9858919 for an initial discussion.