Freedom
Smaller, lighter, smarter and sleeker - that's the Freedom 2000 range from CCT Lighting. These state-of-the-art international luminaires give you flexibility and choice to creating outstanding lighting results. Better light output efficiency, a remarkedly even beam, perfect hard edge and outstandingly defined soft focus - Freedom 2000 is leading the way.
The Freedom 2000 range of profile spotlights is a unique intergrated system combining the lamphouse and lenstubes with an optional on-board dimmer unit. The reflector lamphouse will accept either 600W or 800W axial lamps, and provides an equivalent output to many 1kW and 2kW units. This power saving means that up to 6 Freedom 600W luminaires may be connected on a single 16A supply, which is ideal when using the local dimmer option.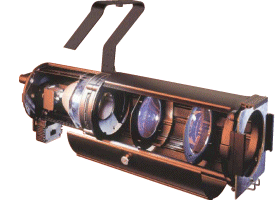 The changeable lenstubes provide variable beam angles across the range of 7° to 58°. Individual lens adjustment gives greater flexibility of the beam angle, and hard & soft focus achieved. The optical system provides an even beam, great depth of field and image clarity - ensuring gobos stay in focus regardless of projection angle. The peak-flat cosine adjustment of the field is made via a small rear knob.
Relamping is a simple operation through the rear of the spotlight, and removing the lamp tray automatically disconnects from the supply or dimmer. A large locking knob and plate allow centre positioning of the lamp filament after replacement. The dual position trunion arm is useful where the overall height needs to be reduced, and is also reversible - aiding balance and allowing an easy change from hanging position to stand use.
All operating knobs and handles remain cool during extended use. Freedom luminaires are marked and tested to EN standards. Awarded 'Product of the Year 1996' by The Association of British Theatre Technicians and the PLASA 'Award for Product Excellence 1996 - Highly Commended', the Freedom range encompasses a spectrum of features creating the ultimate in flexible lighting systems